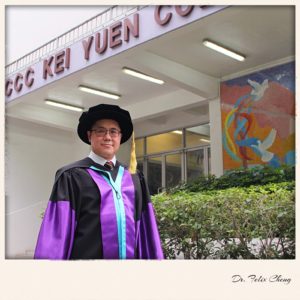 Welcoming message from Principal
Welcome to CCC Kei Yuen College!
CCC Kei Yuen College is a Christian co-education grammar school, with English as the medium of instruction, founded by the Hong Kong Council of the Church of Christ in China (HKCCCC) in 1982.
Our school motto "We will in all things grow up into him who is the Head, that is Christ" (Ephesians 4:15) and the name of our school: 'Kei' (Christ) and 'Yuen' (Head) (meaning "Christ is the Head") have been shaping our direction to follow Christ's model to strive for Excellence with a Soul and pursue Outstanding with a Heart in all things.
We have been establishing a happy learning environment embraced with "Love and Care" where students could grow in love and foster with whole-person development. Not only do we value academic performance and intellectual development, we also stress even more on values and attitudes as well as a perpetual tradition of physical and aesthetic excellence.
Kei Yuen students are nurtured to be self-regulated learners in a context that promotes extraordinary learning experiences not confine to classroom. Ubiquitous learning, via e-learning, has been enhanced with the use of technology in order to promote learning anytime and anywhere. Kei Yuen students also widen their horizon to the world by joining various service training and leadership development programs, as well as study tours to English-speaking countries.
High quality education creates abundant opportunities to cater for the diverse needs of our students in a changing world. We recognize and put special attention to students' individuality and develop their individual potential so that they could treasure themselves, cherish others and love God.
Our graduates are proud of being part of the Kei Yuen family. They understand their duty and have long been contributing to the Hong Kong community, mainland China and the world.
I look forward to welcoming you to the Kei Yuen family.
Dr. Felix Cheng
Principal